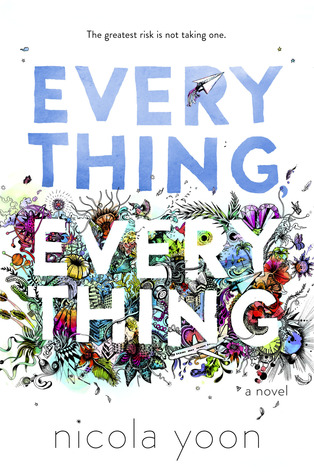 Hello Readers, Today I am going to be doing another joint movie and book review for Everything, Everything by Nicola Yoon. I really liked doing this for Before I Fall. 
Book
Publisher: Delacorte Books for Young Readers
Date Published: September 1st 2015
Pages: 310
Format: Hardcover
Genre: Contemporary
My Rating: 4 out 5 Bubbles
Goodreads Description: My disease is as rare as it is famous. Basically, I'm allergic to the world. I don't leave my house, have not left my house in seventeen years. The only people I ever see are my mom and my nurse, Carla. But then one day, a moving truck arrives next door. I look out my window, and I see him. He's tall, lean and wearing all black—black T-shirt, black jeans, black sneakers, and a black knit cap that covers his hair completely. He catches me looking and stares at me. I stare right back. His name is Olly. Maybe we can't predict the future, but we can predict some things. For example, I am certainly going to fall in love with Olly. It's almost certainly going to be a disaster.
I absolutely flew through this booked and loved every second of it. I read this book in one day. I haven't done that with a book in years! I really liked the format of the book with all the little illustrations they made it really easy to read. Although if absolutely hate insta-love this book is probably not for you. I do not mind insta-love because I'm a sucker for a good cheesy romance however it wasn't very believable if you think about it in a real world sense. Over-all I think it is a very fun and cute beachy read!
Movie
THIS WHOLE MOVIE WAS SO AWKWARD! I have no idea why, but I was getting second hand embarrassment so bad through the whole movie! However, I do not think it is a bad thing and to be expected in a movie about falling in love for the first time. I do have to say I didn't imagine Maddy's house that modern. I feel like they made the whole house very trendy. One thing I loved was the creative choice they made when Maddy and Olly emailing back and forth that makes it seem like they are talking face to face. I do think I would be slightly confused if I didn't read the book. I over all enjoyed the movie, but of course I liked the book better! I think it would be a cute date night movie and would watch again.
Happy Reading,
Bubbles ❤